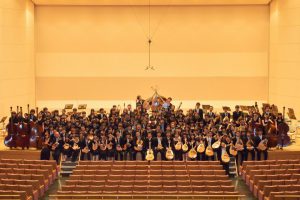 Originated from "ARSNOVA Mandolin Orchestra", which was active from 1997 to 2002, ARTE MANDOLINISTICA was founded in January 2003 with Yasunobu Inoue as the music director. After the first concert in March 2003 at Kyoto Concert Hall, it held annual concerts for three years in Kyoto.
 It held on the road concerts in Tokyo (Sept. 2003) and in Sapporo (Aug. 2004). Moreover, it started to perform "Summer Pops Concert" for children and people who are not familiar with mandolin music in 2005. In the concert, it has played together with Yoshikazu Mera (counter-tenor), Azumi Inoue (singer, famous for the films of Studio Ghibli) and Yumi Fujii (pianist).
 In September 2005, it was certified to be a Non Profit Organization (NPO) to become the first Japanese NPO group as a mandolin orchestra. In the next month, it held "Osaka International Mandolin Competition & Festival", the only international mandolin competition in Japan, at The Phoenix Hall for three days. This event has been held yearly, and the fifth one will be held in October 2009.
 In 2006, it moved the location of its annual concert to the Symphony Hall to Osaka and it has held three concerts in the hall since then. The concerts received a favorable reputation with ambitious program, such as collaborations with two guitarists, Keigo Fujii and Shunsuke Matsuo or a special program featuring three up-and-coming composers, Kenji Suehiro, Keizo Ishibashi, and Daigo Marumoto. Additionally, an on the road concert in Okinawa was carried out in May 2008.
 ARTE MANDOLINISTICA is driving for popularization and development of mandolin music through various activities like holding festivals, publication, enlightenment to children and the public or promoting international exchanges, as well as making music as an orchestra.