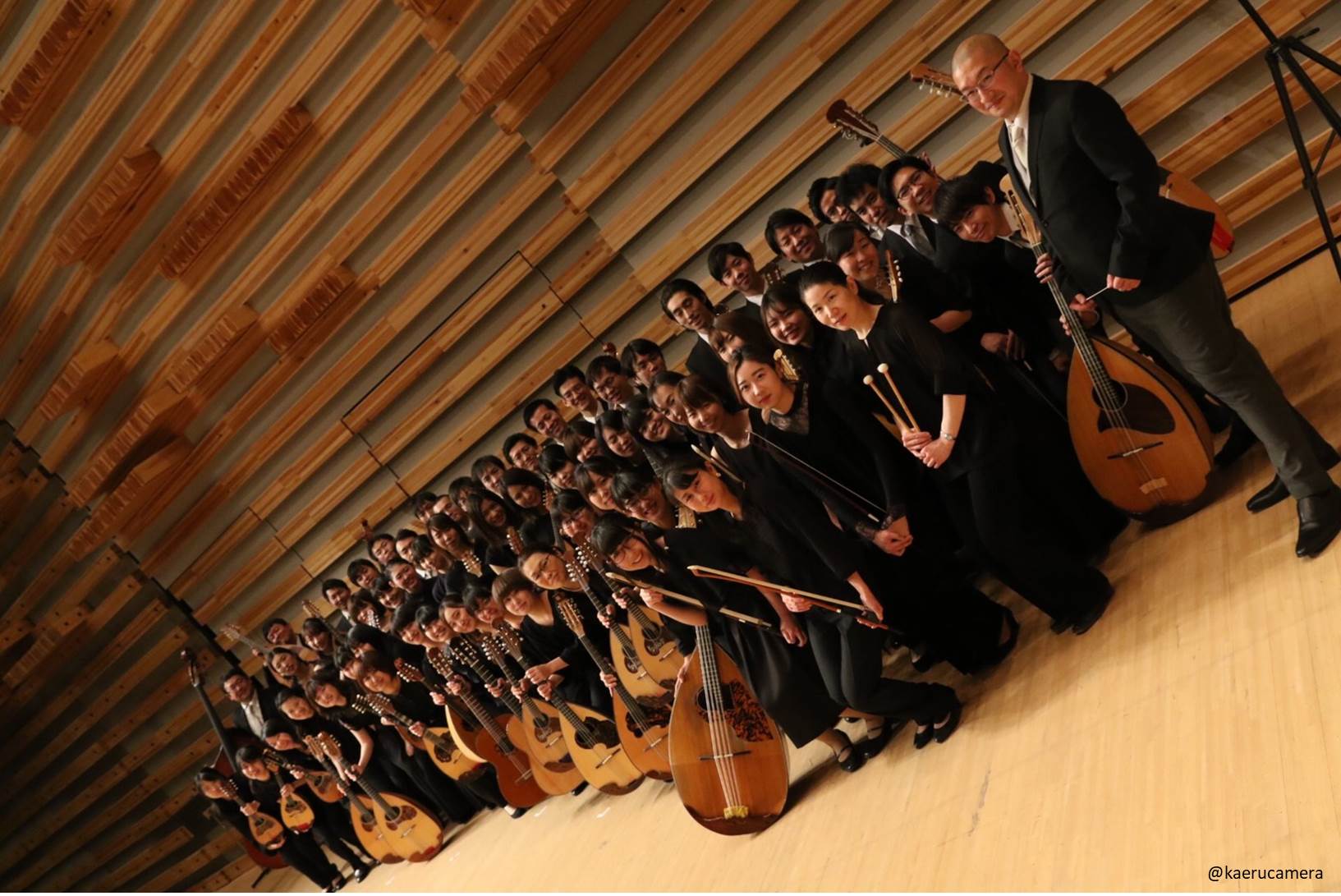 A CALL FOR ORIGINAL COMPOSITION
Osaka Concert 2021 "Arte's Challenge Vol.5"
(February 28, 2021 Toyonaka Performing Arts Center Main Hall)
This call was finished on October 31, 2020.
ARTE MANDOLINISTICA Osaka Concert 2021
"Arte's Challenges vol.5"
Musical Works Selection Result
As a result of the selection of publicly recruited works (from a total of 19 works), the following 8 works are selected and will be premiered at our Osaka Concert that will be held on February 28, 2021.
Philip DeWalt / "Ouroboros"
Ksenia Vechar Kavalevskaya / "There, where the asphalt ends"
Yoshinao Kobayashi / "Gentle Time"
Yui Nakano / "Late Summer"
Hiroaki Niwa / "Madeleine"
Satoshi Sada / Suite "Under the Grape Tree"
Ricardo Sandoval / "Luxuria"
Steven Tsai / "Flower Words, Bloom and Fall"
All members of our orchestra voted and were included in selection process.
We conducted 4 days rehearsal and selected under criteria below, not on the superiority or inferiority of the works:
1. Works suitable for concert performances
2. Works that we hope to left their marks in Mandolin history
3. Works that we want to continue practice and deepen our understanding with
The entries that were not selected this time are as follows:
Yukio Akiyama / "Fantasy Serenade"
Tomonari Hirooka / "Twilight"
Luca Mereu / "The Elephant Stories per Orchestra a Plettro"
Sayuri Ijiri /Suite "The Arrival of Spring" (Premonition of Spring, Melting Snow, Buds, Bloom)
Stephen Lalor / "Osaka Suite"
Diego Felipe Gaitan Lozano / "Pizzicato Groove"
Werner Ruecker / "In Covid Times"
Kazuki Sone / "Under the Night When the Sun Blooms"
Anna Vriend / "Mandolinata Suite for Mandolin Orchestra"
Kazuki Yamazaki / "From Now On"
Hiromasa Yoshida / "Moon Illuminating Sea ― New Moon"
Terms & Conditions for Application
No restriction on composer age, nationality or experience.
Applicants can only submit one composition that is unpublished and unperformed.
Performance time ±10 minutes (Suites is also acceptable).
Instrumentalization for the usual 6-instruments mandolin orchestra arrangement (Mandolin 1, Mandolin 2, Mandola Tenor, Mandoloncello, Guitar, Contrabass) or 7-instruments mandolin orchestra arrangement including Mandolone. No wind instruments or percussion to be included in the works.
The number of performers in the mandolin orchestra will be around 50 people.
Deadline for admission is October 31, 2020. Either send PDF data via e-mail or send printed sheets via post. Music sheets for each instrument are also required.
All submitted works will be played as part of the selection process. The winner will be decided by voting and consultation with all orchestra members.
The announcement of the program will be made on our homepage on December 1, 2020.
The application fee is free.
There will be a 50,000 yen reward for all works selected for the program. Please be advised that we may include some small revisions to the works selected after selection and this is to be allowed.
Copyright and publishing rights shall be held by the composer after the premiere. The release of the recording and the release on YouTube will be made only after consultation between the composer and the organizer.
After the application, the selected works are not to be played by other orchestras until the premiere for any reason. All rights of unselected works are returned to the composer and there will be no restriction on performance.
SUBMIT TO
E-mail address:office@arte-mandolin.com
Address:1-478 Fukakusasujikaibashikita Fushimi-ku,Kyoto-shi, Kyoto-fu 612-0869 Japan